Spares
Biography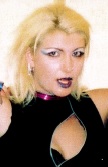 Formed out of the ashes of Children on Stun, a band well-known for its ability to knock senseless, bewilder and shock and truly one of the finest underground acts of the 90's, guitarist and songwriter Simon Manning made it back to the music scene with his new project Spares. He gathered a few familiar faces around him - Neil Ash, Nick Blewitt, Alison Wheatley to name a few - and recorded something quite spectacular for the debut album "Tired and Bizarre". It broke boundaries in more than one way and showed a variety in his song writing that we hadn't seen before. Immediately after the split of Children on Stun a record deal was set up between Simon and M&A Music Art, who had already released most of Stun's records.

The debut album was accompanied by the EP "The End of the Line" - a dance floor crasher. Two more Spares album followed, "Download" in 2003 and a year later "Suffering Fools Gladly", as well as a successfull Whitby Gothic Week-end head-lining. Starting out originally as a solo project Spares quickly evolved. It changed from a solo project with guest artists into a proper band doing live gigs and became much more than a showcase for Simon's talent and his will to discover and conquer new territories of the alternative music scene.

Although Spares never reached the heights or fame of COS they released three albums and one EP, each unique in its own way and very much the result of Simon's creativity and zest for music and life. In July 2015 sadly Simon M passed away.Simon M
Discography
Release
Description and tracklist
Tired & Bizarre
MACDL956
Formed out of the ashes of Children on Stun, guitarist and song-writer Simon M was finally back in the music scene with his new project Spares. "Tired and Bizarre" is a remarkable album, a collection of songs that invites the listener to put aside any pre-conceptions that he or she might have and be part of something different!

Tracklist:
1. Ordinary Day Ordinary Town 4:36
2. Pretty Fine Timebomb 3:48
3. Seahorses 5:37
4. Three Jewels 4:54
5. The Snail's Rave (Part 1) 5:22
6. Dolly Rocker 4:30
7. Heaven With A Gun 5:58
8. Undefeated 4:55
9. Chicken Legs 5:32
10. Driller Killer 5:06
11. The End of The Line 1:53
Release
Description and tracklist
End of The Line
MACD507
An electronic four-track EP released in 2000, blending new songs and remixes, pop songs and dance floor crashers.

Tracklist:
1. It' OK, I'm Only Bleeding 4:59
2. The Snail's Rave (Part 2) 5:23
3. The Snail's Rave (Stripper Mix) 6:16
4. It's OK, I'm Only Bleeding (Radio Edit) 2.24

Buy the EP here!
Release
Description and tracklist
Download
MACDL966
With this album in 2003 Spares changed from a solo project with guest artists into a proper band doing live gigs and widening the musical influences, including a lively cover version of Children on Stun's classic Style Police from the Mondo Weird album.

Tracklist:
1. Splintered
2. Last Time
3. Disown
4. Sugar Printz
5. Style Police (Nurofen mix)
6. Hour Glass
7. Vanity Cracked
Bonus tracks:
8. Another Time Today
9. Intermemory
10. Splintered (007 Mix)
11. Mondo Bizarre
Release
Description and tracklist
Suffering Fools Gladly
MACDL969
Released as a professional CD-r in 2004, very few copies exist and are available today. Contains a mix of reworked songs and songs that are exclusive to this release.

Tracklist:
1. Hour Glass (Reprise)
2. Eating out of Your Hands
3. Sugar Printz
4. Silhouette
5. Tightrope
6. Sea Horses (Underwater Mix)
7. The Morning After
Release
Description and tracklist
Half Light Zone
SPARED03
Half Light Zone was release on Signet Records in 2006 and became the band's last album. In style it is probably closest to its predecessor, the Suffering Fools Gladly album.

Tracklist:
1. Half Light Zone
2. Ripped
3. Enemy Friend
4. Disown
5. Fixated
6. Last Time
7. Everythings Changing
8. House Of Blue
9. Madworld (Roland Orzabal cover)

This album is deleted.
Voices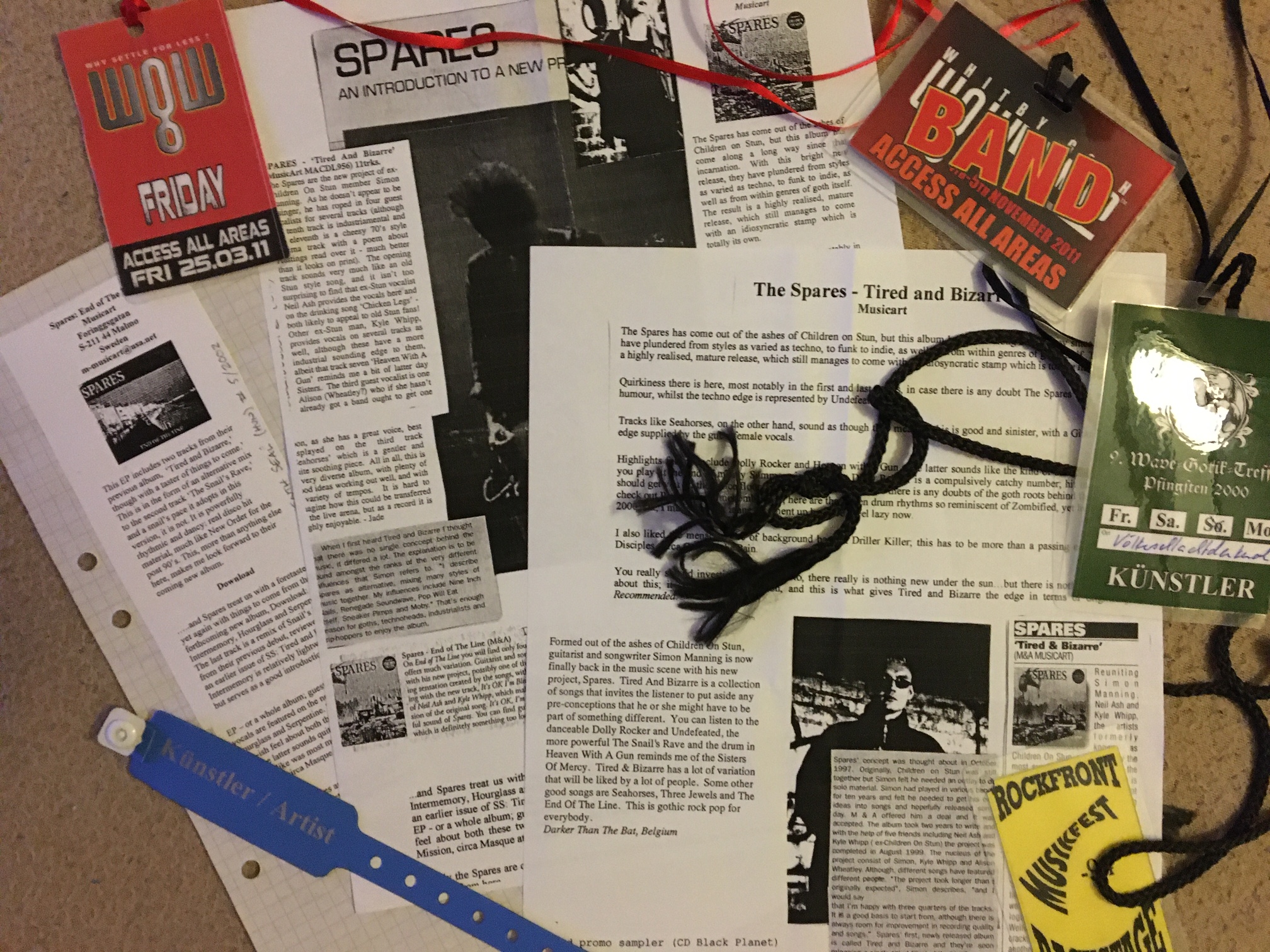 Formed out of the ashes of Children on Stun, guitarist and songwriter Simon M is now finally back in the music scene with his new project, Spares. "Tired and Bizarre" is a collection of songs that invites the listener to put aside any pre-conceptions that he or she might have and be part of something different. You can listen to the danceable "Dolly Rocker" and "Undefeated", the morepowerful "The Snail's Rave" and the drum in "Heaven with a Gun" reminds me of TheSisters of Mercy. "Tired and Bizarre" has a lot of variation and will be likedby a lot of people. Some other good songs are "Seahorses", "Three Jewels" and "The End of the Line". This is gothic rock pop for everybody.
(Darker than the Bat, Belgium)

Spares are the new project of ex-Children on Stun member Simon M. As he doesn't appear to be a singer, he has roped in four guest vocalists for several tracks (although the tenth track is industriamental and the eleventh is a cheesy 70's style cinematrack with a poem about Hastings read over it – much better than it looks on print). The opening track sounds very much like an old Stun style song, and it isn't too surprising to find that ex-Stun vocalist Neil Ash provides the vocals here and on the drinking song "Chicken Legs" – both likely to appeal to old Stun fans! Other ex-Stun man, Kyle Whipp, provides vocals on several tracks as well, although these have a more industrial sounding edge to them, albeit that track seven "Heaven with a Gun" reminds me of a latter day Sisters. The third guest vocalist is one Alison (Wheatley?) who if she hasn't already got a band ought to get one soon, as she has a great voice, best displayed on the third track "Seahorses" which is a gentler and quite soothing piece. All in all, this is a very diverse album, with plenty of good ideas working out well, and with a variety of tempos. It is hard to imagine how this could be transferred to the live arena, but as a record it is highly enjoyable.
Jade (Kaleidoscope, UK, #8/2000)

This EP includes two tracks from their previous album, "Tired and Bizarre", though with a taster of things to come. This is in the form of an alternative mix to the second track "The Snail's Rave" and a snail's pace it adopts in this version, it is not. It is powerfully rhythmic and dancy: real disco hit material, much like New Order for the post 90's. This, more than anything else here, makes me look forward to their coming new album.
(The Seventh Seal, Hun, #5/2002) On "End ofthe Line" you will find only four tracks and only two songs (each with twoversions) and still this CD offers much variation. Guitarist and songwriterSimon M (Children on Stun) is back in the music scene with his new project,possibly one of the finest underground acts of the nineties. This EP focuses onthe floating sensation created by the songs, with "The Snail's Rave", takenfrom the album "Tired and Bizarre", blending with the new track "It's OK I'm only Bleeding". The remix of "The Snail's Rave" is done by Stripper, the new band of Neil Ash and Kyle Whipp, which makes the Children on Stun connection even more valid. It is an upbeat version of the original song. "It's OK I'm only Bleeding" is the first song and greatly introduces you to the wonderful sounds of Spares. You can find guitar rocking music to more EBM oriented sounds on "End of the Line", which is definitely something to look out for as well as the forthcoming full length album.
(Darklife, UK, #VI/2001) … and Spares treat us with a foretaste yet again of things to come from their forthcoming new album, "Download": "Intermemory", "Hourglass" and "Serpentine".The last track is a remix of Snail's Rave, from their previous debut, "Tired and Bizarre", reviewed in an earlier issue of The Seventh Seal. "Intermemory" is relatively lightweight, but serves good as an introduction to the album. Guest female vocals are featured on the next tracks, "Hourglass" and "Serpentine". There is a 60's-ish feel about these two tracks and the latter sounds quite psychedelic. A little like the most memorable of The Mission, circa "Masque" at the best moments. Clearly Spares are continuing in their more eclectic direction, so it will be interesting to see how things continue to develop from here.
(The Seventh Seal, Hun, #5/2002)
Links
M&A Music Art
Contact
There is no direct mode of communication to the band members, but you are always welcome to contact the record label:
M&A Music Art